Packaging and Private Labeling Services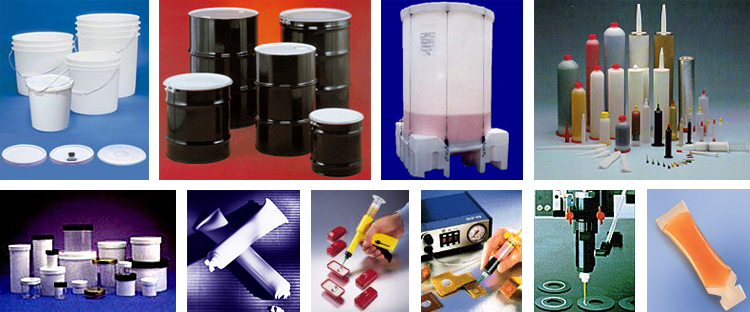 From totes to pillow packs, we'll package our lubricants to meet your needs.
Standard Packaging.
Bulk packaging is the most cost-effective packaging option. Syn-Tech Ltd. offers totes, drums and pails for greases and fluids:
Totes
Drums
Pails
Up to 3000 Lbs.

16 gal./120 lbs.
55 gal./400 lbs.

5 gal./35 lbs.
Note: Weight may vary depending on the density of the grease or oil.
Automated Dispensers. For precise application of your lubricant, Syn-Tech offers plastic cartridges and syringes. They can be adapted to pneumatic or manual dispensing systems. The use of cartridges and syringes reduce air entrapment during filling and dispensing and they reduce problems with dripping or stringing. We can also de-aerate grease to add extra assurance against air entrapment. The inserted plungers allow filling from the dispensing end, reducing the potential for air entrapment and improving the production rate. We can also add UV dyes for automated visual inspection systems.
Plastic Cartridges: 1 oz. – 1/10 gal.
Nozzles Options: Bent, fillet, ribbon, smoothing tools. Application tips for gages 14 – 30.
EFD Syringes: 3 cc – 55 cc. Tips include general purpose, flexible polypropylene, Teflon®-lined, crimped smooth-flow tapered, oval and brush.
Manual and Single-Use Dispensers. The following dispensers are economical for manual application. Whether you need a container with a precise application tip or a single use disposable container, the pre-filled containers eliminate the need to re-fill the container in your factory. Syn-Tech Ltd. can suggest an in-house refilling apparatus for cartridges and syringes if you want to purchase in bulk and refill these dispensers in-house.
Plastic Cartridges: 1 oz. to 1/10 gal. (precision tips available).
Hand-held Syringes (adapters to fill Leur lock and Leur slip syringes).
Plastic and metal jars (all sizes).
Grease Guns: 1 oz. – 32 oz.
Disposable plastic or cardboard grease gun cartridges.
Squeezable tubes in a variety of sizes.
Plastic bottles with applicator tips.
Saran™ single-use packs (5ML - 30ML) with various tear-off tips.
Private Label Services. Using your artwork and local printers, Syn-Tech can package and label products that are ready to ship directly to your customers. We also can package in generic containers for customers who want to apply labels in-house.
All of our products are also available for private labeling for field service kits, distributors, or for customers who want to market and sell their own brand of lubricants. Give us a call to discuss how we can develop your brand-name lubricants. Unlike other private labeling services, we do not require high-volume minimum orders for private labeling.